LifePlan Group's Annual Ambassador's Event
Sunday, December 11th
Lunch Reception from Noon - 1:45 PM | Nanasteak
Ballet at 2:00 PM | DPAC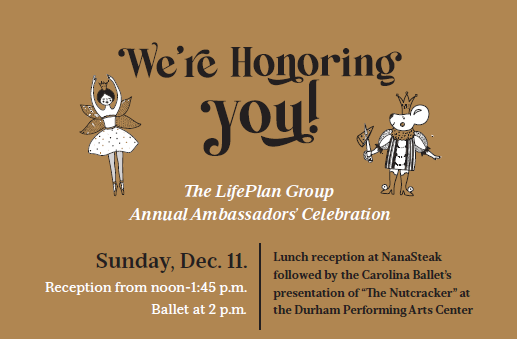 Our favorite event of the year is upon us - our annual Ambassador's Event!
Please join us on Sunday, December 11th for our annual Ambassador's Event so we can say "thank you" for the gracious introductions that you have made on our behalf. At the event we will not only celebrate those that made an introduction on our behalf this year, but those introductions that went on to become clients in 2022 as well!
This year's Ambassador's event will feature a gourmet lunch reception at Durham's renowned Nanasteak, followed by an afternoon spent at the DPAC enjoying the Carolina Ballet's production of Tchaikovsky's The Nutcracker. Our lunch reception will take place from Noon - 1:45 PM, followed by the ballet at 2:00 PM where we will be seated in the Lower Orchestra. This will undoubtedly be our best Ambassador's event yet!
If you have received an invitation to this event and would like to RSVP, please submit the form below!
If you are not yet an Ambassador, there is still time to become one! Please click here to learn more about how to qualify for our Ambassador's Club.